Coaches

Drew MacPherson
Club Coach, Head Coach Senior Men's 1st Team, Head Coach Academy Team
Drew as CLUB COACH is responsible for the overall coaching direction, strategy and rugby development of the Buccaneers rugby program, which encompasses all three men's teams and our junior squads
Drew is a N.C.C.P. Level 3 Rugby Coach, I.R.B. Certified Rugby Coach Instructor and Assessor, and has been twice awarded Rugby Ontario Coach of the Year (2003 & 2006). Drew has extensive experience as head coach of Ontario Rugby Representative Squads and Marshal Division rugby.
Drew currently works as a school teacher in Saskatchewan. He'll be flying out to coach our annual club 'mini-camp' from March 26 – April 2 (More details here) and will be coaching during our regular summer season.
Drew brings a wealth of experience and technical skill to our club which guided our team to one of it's most successful season's last year.

Lee Yarnton
Assistant Club Coach, Head Coach Senior Men's 2nd Team
Lee will be assisting Drew with coaching our men's teams. Before retiring from his playing career, Lee played professional rugby in Wales and has excellent experience in high level competition. Lee has extensive experience with the back and second row, and is particularly experienced in coaching the forward pack.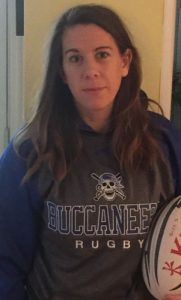 Jenessa Doherty
Junior Program Head Coach
Jen brings over 10 years coaching experience to the Buccaneers. Starting in Melbourne, Australia, she was a player/coach with the Northern Panthers Women's Rugby Club for a year before moving to Shanghai, China, where she took up a coaching role with the Shanghai Sharks women's 7s team. After returning to Toronto, Jen joins the Toronto Buccaneers after 3 successful seasons coaching the Malvern Collegiate Girl's Rugby Team, assisting with coaching the TIRF Rising Stars and Select teams and helping build the Toronto Saracens junior boys rugby to a league championship in the 2016 season.
Jen holds a level 2 NCCP coaching certification in rugby. She is also a level 2 ORU certified referee.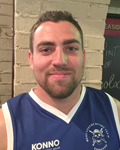 Glen Predy
Assistant Club Coach
Glenn hails from Ireland and in addition to his current duties as a loose forward for the Buccaneers senior men's 1st XV, Glenn's playing experience includes Leinster RFC U16 & U18, and has also played for Auckland University – New Zealand, and most recently for Suttonians Rugby Club Men's 1st XV. Glenn is an experienced Rugby XV's and Rugby Sevens coach.