Hall of Fame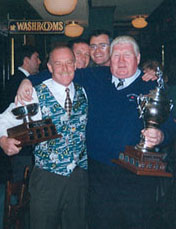 In June, 2008 the Buccaneers RFC were pleased to present their inaugural Hall of Fame inductees on Alumni Day. Post-match celebrations were centered around presenting Hall of Fame awards to the Buccaneers first three nominees: Darcy Ring, Dave Nixon, and the late Ron Moss. All three Hall of Famers were honoured by the Buccaneers club for their outstanding contributions on and off the field. While the Buccaneers have scores of fantastic former members of the club, Ring, Nixon and Moss were stand out players and/or builders for the Buccaneers.
In June, 2009 the Buccaneers celebrated their annual Alumni Day by inducting two new members into their Hall of Fame. The 2009 recipients were Clifford Smith and Damien Keenan, both of whom were founding members of the Buccaneers Rugby Club, established in 1976. In memory of both players (who have both previously passed on to the big rugby pitch in the sky), former Buccs President Jose Duarte, and Buccs Alumni Director Todd Smith made toasts in their honour.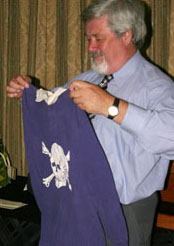 In July 2010, the Buccaneers continued their tradition of honouring past players by inducting two more founding members into the club's Hall of Fame.
Mike Sarosiak (aka Lunch) who unfortunately could not be present, and John Glover who regaled the audience with wonderful stories of the origins of the club, in addition to a few unforgettable ones about his fellow inductee. John also very generously donated an original 1976 Buccaneers jersey which will be displayed in a place of honour at our sponsor bar, the Leaside Pub.
The evening was a great night for both old and young Buccs alike, as they were treated to some fine company and an excellent history about the origins of the club, all while enjoying a sumptuous semi formal banquet at the High Park Club.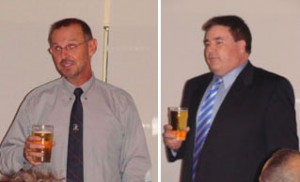 September 2011 saw our fourth set of inaugurations into the Buccaneers Hall of Fame. Continuing on from the previous year's tradition of hosting a formal dinner at the High Park Club, young and old Buccs alike came out to honour two special past members.
Chris May (left), a former club captin and Kevin Elder (right), a former club president, both accepted their inaugartions into the Hall of Fame and helped give other members a chance to hear some of the rich history of the club. The night was a great oppourtunity for alumni members to see and meet new faces in the club, while the younger players got the wonderful context of knowing where the club has come from and how it continues on in the same spirit today.
A very special thank you goes out to Kevin Elder, who graciously donated some very special touring ties from prominent sides to the club for our raffle. A good time was had by all and we look forward to continuing this great tradition.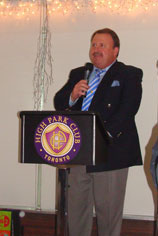 In 2012, the Buccaneers coupled the annual Hall of Fame induction ceremony with the clubs season awards. Once again returning to the High Park Club with one of the best attendances to date, Buccaneers old and young alike were treated to great food, beverages and stories, recongnizing and welcoming Todd Smith into the Hall Of Fame. Todd has been greatly helpful to the club by way of helping to liaise with the alumni over the years and help ensure their continued involvment with the club. Thanks in large part to to his efforts the club has the privilege of having some great past players who still agree to put up with the young ones and come out every once in a while for some fun.
A very special thank you goes out once again to Kevin Elder, who graciously donated a few more classic rugby ties from his family's collection, along with some wonderful beverages which were happily enjoyed by not just the winners. In addition, some great prizes were raffled off courtesy of Amsterdam and Steamwhistle breweries, the Keg and Epic restaurants as well as Sydney Johnson's 'Ladies Basket'.
In 2013, the Buccs continued the tradition of hosting the annual Hall of Fame induction ceremony with the clubs' season awards. Once again returning to the High Park Club with a great attendance, there much to celebrate. The 2013 induction saw Peter 'Explitave deleted' Gibson receive the clubs recognition. Despite a good natured roast based largely on his switching allegiances in the past and playing for the Beach, Pete has long been a great supporter of the Buccaneers and regaled young and old alike with stories from days gone by to the delight of all.
In addition, a special appearance was made by former Hall of Fame inductee Mike 'Dr. Lunch' Sarosiak, who was unable to attend his own induction a few years past. He can now proudly display his trophy mug, and has promised to return again.
It was also a bittersweet farewell night, as the club recognized two members who are moving on in their lives. Our coach of the past few years, Lee Yarnton, has decided to step down to spend more time with his family. The club presented Lee with a framed Lions tour photograph as a small token of our great appreciation for all his work with club the past few years. It was also announced that our Club President James Phillips will be stepping down from his role to pursue the crazy act of married life. The club presented James with a very special inaugural Club Jacket, which is hoped to be massed marketed to club members in the future for years to come.
A very special thank you goes out once again to Kevin Elder, who graciously donated a few more classic rugby ties from his family's collection to help raise money for the club via Silent Auction. In addition, some great booze prizes were raffled off courtesy of Davin Brown, Joey Neglia and Sean Webb. Our thanks to all who participated and helped making it such a great night for the club once again.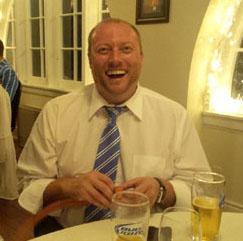 The Buccaneers were honoured to induct Stuart Betterridge for the 2014 Buccaneers Hall of Fame.
Starting 1990 season, Stu played rugby with the Buccaneers for nearly 20 years. Including club captain in 2001.
Stu has also been an active club alumni, attending games and socials. He also volunteered his services as a chef to cater the club's mid-winter "Caribbean Parties", and has attended every single alumni dinner since their inception as well as organizing a very successful and arrest-free tour to Kingston a few years ago.
Bucs alumni Ken McDowall (though not present) prepared an excellent speech read out at the dinner, reminding the club of what a mutant Stu was. The Bucs were also honoured to have Paul Rooney present, Buccaneer almuni and former team mate of Stu. Paul is a founding member of the Etobicoke Invictus RFC who have just been promoted to the TRU B division for 2015! The Buccaneers were proud to present Paul a club tie and congratulated his Etobicoke club for their hard work getting promoted.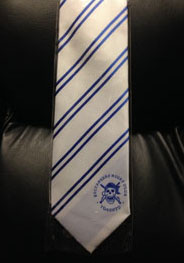 Stu had played rugby with literally generations of Bucs players, and has always been a well loved rock of our club both as a player and alumni. Stu's acceptance speech was captivating, for a rugby player, and rounded off a fantastic Hall of Fame & Awards dinner.
In addition to inducting Stu into the Buccaneers Hall of Fame, 2014 also saw the beginning of a new tradition with the presentation of the first wave of 'Honour Ties' to Buccaneers who were club members for 10 years or more, and, to any Hall of Fame member.
Hall of Fame members were were presented their Honour Ties were: Stuart Betterridge, Dave Nixon, and Todd Smith.
Players of 10 years or more who were presented with their Honour Ties were: James Phillips, Don Robichaud, Chris Duggan, Robert Nicholls, Simon Bright, John Prucha, Jose Duarte and Derek Williams.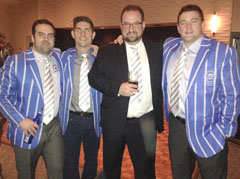 The Buccaneers were proud to induct Jose Duarte as their newest Hall of Fame member for 2015. Jose was an active member of the club from 1995 to 2009. As a player Jose was a fierce tackler and a hard runner. Jose was also versatile, playing both front row and second row, as well as inside centre when called upon. On top of being a player, Jose served the club above and beyond the call of duty. During Jose's tenure he was club referee, club webmaster, and coached the senior men's team. Jose also served as an executive member as club secretary from 2001 to 2005, and was club president from 2006 to 2009. Jose's contribution to the team, and commitment to the club is beyond measure and make him especially worthy as a member of the Buccaneers Hall of Fame.
The tradition of presenting Honour Ties to club members who played 10 years or more continued this year as well, with Larry Pryputniski, Mark Carruthers, Ken McDowall, John Glover, Kevin Elder, Tony Currie, Brian Crothers, Gideon Haasbroek and Simon Cooper all receiving their well deserved recongintion.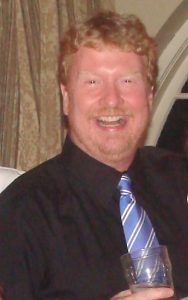 The Buccaneers were proud to induct Rob Nicholls (aka Peckerhead) as our 2016 Hall of Fame member.
Rob is already a 'member of honour' playing with the Bucs for 10 years or more, and has served as club President.  As an active alumni member for decades Rob has also done wonders for growing the club by bridging the gap between many generations of Buccaneers.
He has near mythical status with our younger players after drinking for 48 straight hours recently during our tour to Cincinnati.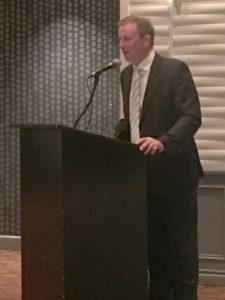 The Buccaneers RFC held their annual Hall of Fame & Awards banquet on October 14.  It was a lively evening with over 70 players, alumni and guests attending.  Congratulations to all the award winners, and, especially Simon Bright, our 2017 Hall of Fame inductee.  Hats off to Simon Bright's acceptance speech, and Stu Betteridge's hilarious HOF introduction.
Long time Buccaneer Tony Currie quietly retired from rugby this season, and in his usual humble fashion didn't announce it until the season was complete.  Tony has played Bucs rugby for nearly two decades, and could frankly continue to play if he chose to.  His legendary strength and fitness, even at 55 years old, made him a force of nature in the tight five.  Although he could not attend banquet night, the Buccaneers RFC was proud to present Tony, post banquet, a unique award of Ultimate Club Man, in recognition of his years of service and dedication to the Bucs, and for helping many club members find employment opportunities and careers.  Honour Tie Recipients (10 year members): Sean Webb, Dean Spencer & Sean McKenna
DAVIS KELO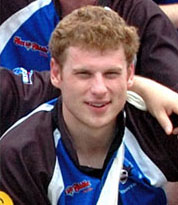 It was with sad hearts that the Buccaneers learnt of the passing of our teammate, friend, and rugby brother Davis Kelo in Ocotber of 2007.
Davis, a ginger-haired 19 year old promising young player, had only played one season with the Buccaneers. He began to practice late in the season and his first game was as a flanker against Oshawa. Those who played with him know what a brave, fast, fit and sturdy player he was, not to mention one helluva lad.
While Davis was only with us for a brief time, his memory and commitment to the game now live on each year with the presentation of the Davis Kelo Rookie of the Year Award.
You'll be missed Davis, but not forgotten.
Click here for a video montage of Davis created by club member and photographer José Lagman