Toronto Buccaneers Juniors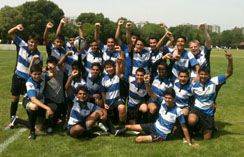 In 2012 the Toronto Buccaneers fielded the club's first ever U16 junior team. Based on the great success of our young squad (making it to the championship match in our division!) the Buccaneers fielded an additional U18 junior side for the 2013 season, both of which have flourished to this day.
The Buccaneers are also proud to be a partner club with the Toronto Innner-City Rugby Foundation, a program designed to bring together schools, clubs and the rugby community to support student athletes from lower income and immigrant-rich neighbourhoods to improve their athletic skills and to adopt the rugby ethos of hard work, discipline, and mutual respect. TIRF allows some juniors from select schools to play summer club rugby at significantly reduced costs. To find out eligibility, and/or to register directly through the TIRF website, please visit http://tirfrugby.ca
The Buccaneers from Marc Garneau Collegiate Institute, part of the TIRF program, came up with the following video in support. Special thanks to 2012 captain Victor Cho for his filming and editing work:
For anyone interested in receiving more information on our junior programs please contact any of our Youth Development Committe:
Brian Crothers
Barrister & Solicitor
Club President
president@buccaneersrugby.com
 Drew MacPherson
Toronto Buccaneers Head Coach
Junior Boys & Senior Mens
coach@buccaneersrugby.com
Jeff Dymond
Child Protection Officer
Toronto Buccaneers RFC
safety@buccaneersrugby.com
For more information on our junior program, please see our Junior Program FAQ page
Rugby Canada and the Toronto Buccaneers are committed to providing a safe and enjoyable atmosphere for younger people to play rugby. The Buccaneers have adopted a group of policies to help all coaches, managers, volunteers and parents/guardians working with young people ensure they are in the best possible position to help young people learn and play the sport of rugby safely, fairly and with the most enjoyment possible.
In accordance with the Toronto Rugby Union's policies on working with young people, the Toronto Buccaneers have assigned a Child Protection Officer to act as a point of contact in all issues relating to the welfare of children and to ensure all appropriate documentation and forms are completed and kept secure in accordance with the Toronto Buccaneers RFC and Toronto Rugby Union's Child Protection Policies.
Our Child Protection Officer is:
Jeffrey Dymond
safety@buccaneersrugby.com
We encourage all to read through and understand our policies relating to Junior rugby with the Toronto Buccaneers:
If you have any questions regarding a child's safety in connection to the Toronto Buccaneers RFC, or any knowledge or suspicion of a child's safety being jeopardized, please contact our Child Protection Officer immediately.